Music and Choir
The Music Committee, also known as The Last Minute Choir, is a small group of singers and musicians that provides music for all the MMUUF services.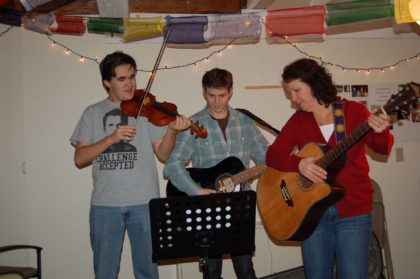 We also occasionally perform at community events. We rehearse every Thursday evening, and on Sunday mornings right before the service. We choose appropriate music to fit the theme of the service. Our tastes are eclectic, ranging from folk to blues and spirituals to popular music and traditional hymns.
Membership in the LMC is open to everyone – all you need is a love of music and a desire to spend some quality time with a fun group of people.
If you're interested in joining or learning more, feel free to talk to any of us after a service, or send an email to music@mmuuf.org.